Today, on International Domestic Workers Day, in Ireland and across the globe, we celebrate and shine a light on this critical work.
COVID-19, now more than ever, shows us the importance of essential workers. In our communities and our homes, domestic workers across Ireland are part of this picture. This work is carried out by a mainly migrant workforce, many of whom are undocumented. Their work enables Irish families to provide much needed care for their loved ones to stay at home and live safely and independently.
Linda Keitasha, community development worker with Migrant Rights Centre Ireland said "Before the global pandemic the home care situation in Ireland was already at breaking point. There were long waiting times for very limited homecare packages and a huge unmet demand for workers as the infographic shows. The lack of regulation has also led to precarious employment conditions, low pay and a risk of exploitation".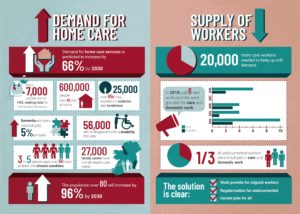 Alma*, an undocumented domestic worker said, "I love the woman I work with. We have been cocooning together, but we haven't been able to leave the house for the past twelve weeks. It has been ok, but I always worry about my own family".
Allan De Fiesta, spokesperson from My Fair Home Network** said "Our members provide critical care in this time of great need. We need to be recognised and protected for the work we do now and not forgotten after the pandemic. Days like today help lift up our work and show the world the huge contribution we make".
Linda Keitasha, concluded "Migrant domestic workers are some of the unsung heroes in this pandemic by keeping our older people safe. Right now we are failing workers, families and older people. The draft Programme for Government has welcome commitments to regularise undocumented workers and for the introduction of a new statutory homecare scheme for older people. We hope that these will be given urgent attention when the new government forms".
For further information contact:
Edel McGinley, Migrant Rights Centre Ireland: 087 748 5695
*Not her real name
**My Fair Home is a network of homecare workers across Ireland who have come together to improve the lives and working conditions of live in carers.