https://www.youtube.com/watch?v=4BfKFCOCJe8
Quality Care. Quality Jobs.
We are Ireland's first ever carer-owned cooperative in home care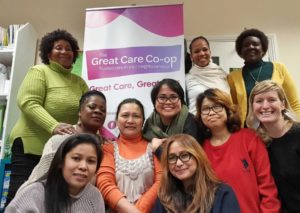 Since 2001, MRCI has advocated for rights for migrant women employed in care. Setting up a worker-owned business seems like a natural solution to workplace exploitation, so for the last two years we have been working with a group of migrant women carers to develop a better model of home care based on excellent care and great jobs.
The Great Care Co-op is Ireland's first care workers cooperative, it is led by migrant women and it is funded under the European Social Funds Women's Entrepreneurship Stream.
Why is the Great Care Co-op different?
We Pay Fair Wages
At the Great Care Co-op we pay 14.50/hr as our flat rate, which is higher than the average rate of pay from other providers.
Because workers deserve to be paid enough so that they can provide for their families and give their children a good start in life.
We Are Community Based
Local carers working locally in their own community means less time spent in the commute, because every one of us deserves a good work-life balance that allow us to spend quality time with our families.
It also means carers live in the neighbourhood they work in, so they know the area and services available in the community. This helps to keep the client integrated and connected with their local butcher, church, community centre, etc.
We Are Sustainable
Because we are not-for-profit, any income generated is reinvested into carers themselves.
We put people first. The current care system is dominated by large profit-making businesses that prioritise profit over care and over carers. Staff turnover is high due to low pay and poor working conditions, which often results in inconsistent care for clients.
We Are Self-managed
Working in self-managed teams of up to 12 carers in their neighbourhood allows carers to have more freedom and flexibility to respond to their client's needs. It also gives carers more autonomy in their work.
The Buurtzorg method
This revolutionary care approach focuses on the individual, their support circles and their formal health care services for successful ageing. It concentrates on combating isolation, helplessness and boredom through promoting and maintaining the persons' social roles, activities and independence.
The Buurtzorg approach is new to Ireland and has been hugely successful in the Netherlands and the UK, where it shows better client and care scores and cost savings of up to 40%.
Are You Looking for a Local, Qualified, Experienced and Vetted Carer?
Our Dalkey care team offers a holistic approach to all your personal, social and care needs.
We work with you to create a tailored care plan and set of activities to meet your needs and support your independence.
Contact us at info@tgcc.ie or call 085 252 7654